What it is…
Cyberbullying is a form of violence that is rampant among people who have moved away from physical assault to the modern way of abuse through the screen of a device. This is a person's harassment that happens from another person deliberately via technology and it can take different kind of forms.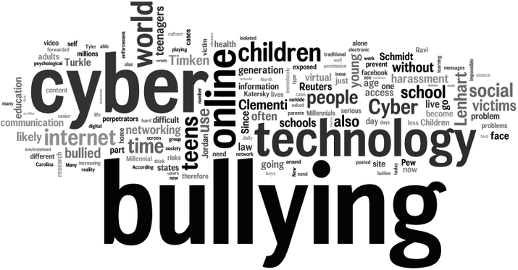 The most common targeted groups of people…
Usually the most "dangerous" age of our life is the teenage period, that's why the usual chosen victims of cyberbullying are teenagers. More than 1 in 3 young people have experienced cyber-threats online. This generation is very well familiarized with technology, they know how to use a computer, a laptop and a smartphone very well, but they are not able to know the dangers that they may incur in the internet world.
Is it a legend or it happens for real?
You better take it seriously because THIS IS REAL and it happens every day!!! The statistics worldwide have shown that over the years the percentage of the teenagers that have been affected from this terror, increases rapidly.
How to notice that it happens to your kid?
Here are a few of the things you should notice to your child if he/she has been affected from this terror:
Changes in his/her behavior. He/she may be nervous a lot of times and get angry with people without any reason.
No appetite for food. He/she may not eat the same quantities of food as before or at all.
Antisocial behaviour. He/she may take a break from his/her friends or change his/her friends and be a member of a new group of people that they probably are not his/her type.
Lack of confidence. Usually this teens are under attacks that have to do with their confidence. The other person will try to make them feel bad about their body, their beauty, their character or their ability to do anything.
Addiction to the use of their computer or smartphone. You may see your kid having no limits about using internet. Anywhere he/she will go he/she will be looking for a way to be net connected. Although they don't get nice feeling from talking to someone that makes them cyber-bullying, they want to be connected again, hoping to give an end on this, but they never manage this and it is always getting worse.
Unexpectedly stop using their device(s). This is the opposite reaction that he/she may have if he/she doesn't feel well talking to someone and can't handle this.
Problems with sleeping. The changes about sleep is the most usual problem for people being depressed or stressed about something. He/she may be oversleeping or not sleeping enough.
How serious results can cyberbullying bring?
You can't imagine how bad the things can get, just because a hateful person aimed and chose a kid to humiliate it. A lot of people, and not only children, have been depressed and leaded to extreme acts even suicide. So don't take this defiantly and always remember that this is not just a screen!
How can I protect my child?
You are not able to know how to use technology in a high level and you are not supposed to be an expert. You just need someone's advice. A few tips to save your child or yourself from being a cyberbullying victim. We are dispose for you any time you need us.
Click On The Images Below to Download the Anti CyberBullying Guide By LGBT
Contact Us today for more information about Cyberbullying.